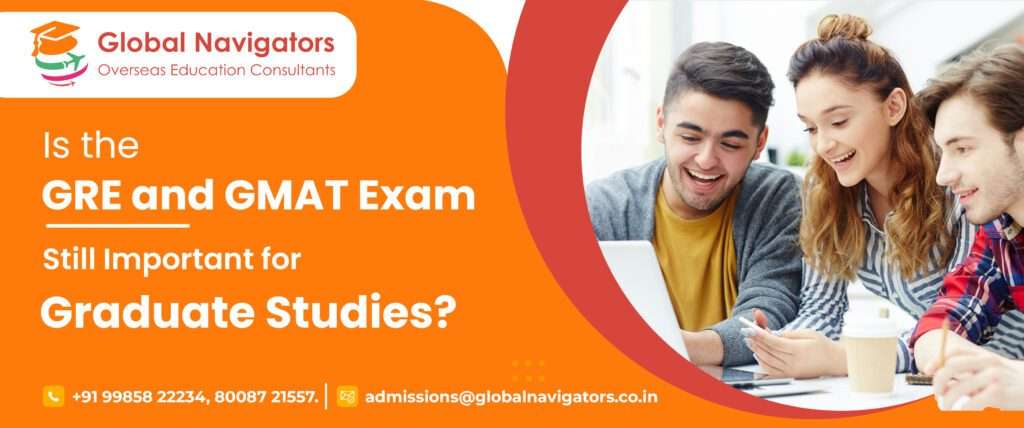 GRE & GMAT exams are very important for graduate and postgraduate study. Many top universities give these exams a high priority for the admission process. The major difference between GMAT and GRE exams is GMAT is used for students who want to apply for business schools while the GRE exam is for many graduate programmers including business and law schools.
What is on GRE Exam?
The GRE exams are conducted to evaluate your knowledge of fundamental maths, algebra, geometry, and data analysis with your knowledge of college-level language. The significant part of assessing the critical thinking, analytical and problem-solving skills of the candidate. The GRE is available in both computer and paper-based formats. And the test time is approximately 3 hours and 45 minutes.
What is on the GMAT exam?
GMAT exams are to evaluate the student's quantitative and reasoning concepts in algebra, statistics, geometry analytics, logical, problem-solving skills and verbal communication and analyzing information in a limited period of time. For the GMAT exam, the time limit is 3 Hours and 7 minutes.
Difference between GRE & GMAT
The major difference between GRE and GMAT is if you planning to pursue MBA and want to go to business school then the GMAT exam is a more feasible option but if you didn't decide which career you want to pick going for GRE is a better choice. If You're confused about which exam to go consider taking the exam at which college you want to go for. Many business schools and Law schools accept GRE exams.
What is covered in GRE
The GRE exam is the standard admission test for many graduate programmers in US and other countries. The exam measures the candidate's skills in three major topics Analytical writing, verbal communication, and quantitative reasoning you can take global navigator Abroad Consultancy In Hyderabad for guiding you for your studies.
Verbal reasoning
Verbal reasoning measures the candidate's ability to analyse and evaluate the written material and understand and arrange the information that you get from the question. This section contains 2 sections containing 20 questions with a time limit of 30 minutes.
Quantitative Reasoning
Quantitative reasoning measures a candidate's ability to understand clarify and analyse quantitative information to solve problems using mathematical concepts. It consists of two sections containing 20 questions for a time period of 35 minutes.
Analytical writing
The analytical writing will measure the candidate's ability to write fluently, and clearly to support the arguments with relevant examples and evidence. It consists of two parts that require the candidate to evaluate the problem and understand the argument and write a conclusion for that within the limit of 30 minutes.
Students can prepare for the GRE and GMAT exam with GRE coaching centers in Hyderabad to get a good score and to get into your dream college and course. Global Navigator an Overseas Education Consultants Hyderabad will guide you to go abroad and get the best education.
What is covered in GMAT
The GMat exams have 4 sections that is quantitative, verbal, integrated reasoning, and analytical writing assistance. The GMAT exam contains 80 questions with a time duration for GMAT is 3 hours and 7 minutes to solve the answer questions keep in mind that there will be negative marking for each wrong answer, you should consider the best GMAT coaching in Hyderabad to help you with your studies and immigration process.
Quantitative reasoning: this section will measure candidate problem-solving and analytical problems with mathematics concepts. In this we will have 31 questions and a time limit is 62 minutes.
Verbal : verbal communication is for understanding the candidate's English reading and writing skills with Sentence Correction, Critical Reasoning, and Reading Comprehension questions. This section will have 36 questions with a time limit of 65 minutes
Integrated reasoning: reasoning section includes Table Analysis, Graphics Interpretation, Multi-Source Reasoning, and Two-Part Analysis for logical questions with 12 questions with 30 minutes.
Analytical writing assessment: assessing the analysis of argument questions to analyse your skills this section has 30 minutes for 1 question to analyse and provide your conclusion.
5 Reasons Why Taking GRE & GMAT  is Important
Admission to Graduate Programs: GRE and GMAT scores are often required by universities and business schools for admission. They serve as a standardized measure of academic abilities and increase the likelihood of acceptance.
Scholarship Opportunities: Impressive GRE and GMAT scores can make you eligible for scholarships and financial aid, reducing the financial burden of higher education.
Comparison with Peers: These tests provide a fair platform for comparing applicants' abilities. Admissions committees can objectively evaluate candidates with diverse backgrounds and make informed decisions.
Global Recognition: GRE and GMAT scores are recognized worldwide. Strong scores can demonstrate readiness for international academic and professional challenges.
Personal Development: Preparing for these exams enhances critical thinking, problem-solving, and time-management skills. It fosters discipline, perseverance, and a structured approach to learning, valuable for graduate school and beyond.
Best Immigration Consultant In Hyderabad
Conclusion
In conclusion, the GRE and GMAT exams continue to play a vital role in the realm of abroad education graduate candidates. These standardized tests provide a measure of a candidate's academic abilities and serve as essential criteria for admission to graduate programs. While the GRE covers a wide range of subjects, the GMAT focuses specifically on skills relevant to business and management studies. Both exams offer global recognition, enhance scholarship opportunities, facilitate fair comparisons among applicants, and contribute to personal development. Taking the GRE and GMAT exams is crucial for aspiring graduate students, as they open doors to educational and professional success.  Global Navigator is Best Immigration Consultant In Hyderabad for giving you a ticket for abroad education. Giving wings to students with GMAT exam preparation and counselling support. Contact the global navigator today to know more details.